Facilities
The Arc of Essex County's Camp Hope program is located on over 6 acres of park like grounds within the Township of East Hanover, NJ. The grounds are fenced in to ensure safety and security during the camp day.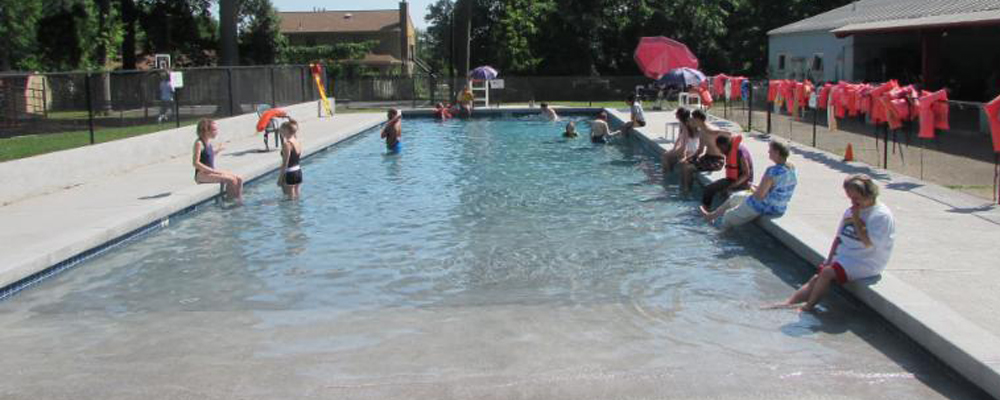 BUILDINGS
Pool Pavilion: The first building you encounter as you enter the camp grounds is our Pool Pavilion. This building houses two locker rooms (male and female), bathrooms, laundry facilities, storage room, a small office, and covered outdoor activity space. Used throughout the summer, this covered space is the perfect place to gather for music and games, as well as movies and sports on rainy days.
Multipurpose Recreation Facility: This large air-conditioned building opened in the summer of 2018 providing the majority of our indoor activity space. An expansive multipurpose room is where campers complete art projects as well as cooking, science and nature activities. Also located in this building is the kitchen, bathrooms, nurse's office and director's office. Attached to the building is a large open air pavilion with a snack bar access to the kitchen. Under this pavilion are tables and chairs for lunch and additional activities.
Grounds
The heart of Camp Hope is our grounds and outdoor activity space, all of which were designed to meet the needs of our campers and ensure summertime fun.
Pool: The Camp Hope facility features a zero-entry swimming pool. The unique design of our pool ensures that those with mobility issues can easily enter as there are no stairs. Additionally the gradual incline to five feet maximum depth allows campers of all heights to stand in a level of water that they are comfortable with.
Splash Pad: The addition of a Splash pad in 2017 is our newest, most popular activity. The splash pad allows the campers to spend additional time getting wet during the heat of the summer. Campers love playing in the jets and splashing around with their friends.
Playground: Installed in 2017, this multi-level accessible-friendly playground, is loved by all campers. With 3 different slides, various climbing features, interactive panels and 4 swings, the playground is a popular area for summer camp fun.
Basketball Court: The camp's newly paved basketball court features two state of the art adjustable backboards. These backboards have the ability to adjust their height so that campers from ages 5 – 50 can make the perfect shot.
Sports Field:  The newly designed and enlarged field is where many of our sports activities take place.  From soccer, to t-ball, to relay races, the field provides plenty of room to run around and have fun!